S

cope and Sequence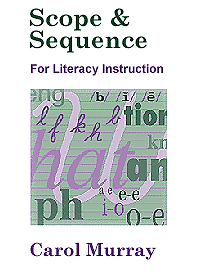 Scope and Sequence for Literacy Instruction
by Carol Murray is an important reference textbook for teachers, tutors, and school administrators who employ a phonics-based approach for literacy instruction. Scope and Sequence provides clearly outlined instructional sequences in easy-to-read reference tables. These can be utilized in traditional lesson planning, or in conjunction with WordSpring or LessonPlanner.
This is the book I've been begging Carol Murray to write ever since I took her advanced teacher-education course. By simply following the carefully sequenced tables, teachers can quickly locate just what they need to teach next. Then, when time allows, they can relax by reading the fascinating, detailed text that explains the rationale behind a scope and sequence that really works.
Ilia Salomone-Smith, M.A. Educational Consultant and Tutor, San Francisco, CA
Scope and Sequence can be downloaded by clicking on the link below. It will appear as a window in your browser and then can be saved to your computer by selecting the Save As command. The first page of the document is blank so just scroll down to see the title page.
Scope and Sequence enables you to:
Teach penmanship, reading, spelling, and composition to general education and at risk students, particularly those with specific language disabilities
Use a structured, simultaneous, multisensory, alphabet-phonics approach based on the works of Orton, Gillingham, and Stillman or on Slingerland's classroom adaptation
Incorporate phonics components into literacy instruction regardless of the methodology used
Scope & Sequence offers:
Carol Murray's ability to organize and her great passion for the intricacies of the English language make this book useful for both beginning and experienced teachers. It is an important contribution to the field of teaching children with language difficulties, and it is an exceptional reference tool for the professional's library.
Nancy L. Royal, Ed.D. Former Executive Director, The Prentice School, Santa Ana, CA
Guidance for using a phonics-based approach for teaching, including:
handwriting
graphemes
decoding
syllabification rules
accenting hints
phonemes
encoding
writing skills
Sample table
Definitely teach from the previous tables:
ough, augh or aught, ought
Also possibly introduced previously:
ear, our, al
Gradually teach:
ti, si, ci (as \sh\, not \s\)
Less frequent:
xi, su \sh\
ce (as \sh\, not \s\) ;
Teach:
que, sc and ps, pn
Teach:
yr, et, é
Teach second phonemes for:
ir, er, ei
Maybe not for:
ie
Teach using Choices I or II:
w(a) and qu(a)
w(ar) and qu(ar)
w(or)
About the author
Carol Murray, M.Ed., devoted 35 years to the education of children, adolescents, and adults with specific language disabilities as a classroom teacher, school administrator, and instructor of teacher education courses. She wrote numerous educational materials including diagnostic tests for older students, and most recently, a resource textbook for educators entitled Scope & Sequence for Literacy Instruction. At Lexia, she helped develop WordSpring and LessonPlanner, computer software tools to aid teachers plan phonics-based literacy lessons, and also helped in the development of computer readers to accommodate and improve the skills of struggling readers.