P

rojects
Literacy Instruction Tools
Lexia has been a leader in the development of computer software to help teachers, tutors, and educational therapists plan and deliver literacy instruction. Our work is focused on supporting phonics instruction. It is for teachers who use alphabetic-phonics multisensory approaches to literacy instruction as well as for those who want to add a phonics component to meaning-emphasis methods.
We have developed two software tools for lesson planning: WordSpring and LessonPlanner, and a companion reference text Scope and Sequence for Literacy Instruction. These tools are in use at scores of public and independent schools and by teachers throughout the United States and in other countries. We are continuing to enhance WordSpring, and we release new versions periodically. LessonPlanner is no longer offered as a product.
WordSpring™ is a simple, methodology independent word list resource for phonics instruction. It offers teachers a complete, but easily navigated set of word lists, examples of sound-sight and sight-sound pairings, and structural (morphological) components.
LessonPlanner™ was a comprehensive tool specifically for teachers and tutors who use the Slingerland alphabetic-phonics multisensory approach to literacy instruction. It brought together in one system all the resources required for planning daily lessons and for obtaining complete printed lesson plans.
Scope & Sequence for Literacy Instruction by Carol Murray is an important reference text for teachers, tutors, and school administrators who teach general education and at risk students, particularly students with specific language disabilities. It can be used in conjunction with WordSpring and LessonPlanner, or independently.
Assistive Reading Software for Poor Readers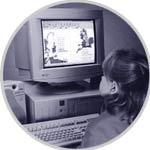 Lexia conducted a number of studies of the use of assistive reading software (such as the Kurzweil 3000) by students and adults with dyslexia and attention disorders. This software provides a synchronized auditory and visual presentation of scanned and computer text. It helps users to read more quickly, with greater comprehension, and with less fatigue. It provides appropriate feedback to students when they practice independent reading.